Nancy Petyarre
1938 - 2009

Aboriginal Paintings from Utopia Region NT

Mountain Devil Dreaming
Stock #3579
Synthetic polymer paint on linen
1220 x 900mm

Mountain Devil Dreaming
Stock #2978
Synthetic polymer paint on linen
1010 x 150mm

Mountain Devil Dreaming
Stock #04417
Synthetic polymer paint on linen
1200 x 900mm

Mountain Devil Dreaming
Stock #04420
Synthetic polymer paint on linen
1200 x 900mm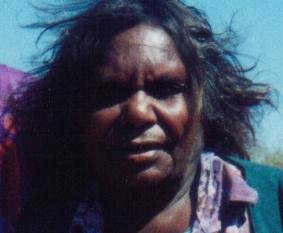 Nancy Petyarre was born at Soakage Bore in 1938. She is the sister of the well known Gloria Petyarre, Kathleen Petyarre, Ada Bird, Violet Petyarre, Myrtle Petyarre and Jeannie Petyarre.
Her main titles are Mountain Devil Dreaming and Body Paint.
Nancy is noted for her linear style of painting depicting Mountain Devil Dreaming with flowing strokes and bright colours. Often surrounding these broad areas of colour are small dots creating the effect of the lizards skin that is the basis of this Dreaming.
Along with her sister, Gloria Petyarre, Nancy also uses small dots to depict her Dreamings. These dots form an intricate display of patterns that capture the attention of the viewer and display Nancy's love of her country.
Nancy Petyarre is also well known for her carvings that have featured in numerous exhibitions, and for as well as wood block prints which are in the collections of the National Gallery of Australia and the Art Gallery of New South Wales.



Copyright Notice ___________________________________________________________________________________







HOME | ABOUT THE GALLERY | ARTISTS | ORDER INFO | BOOKSHOP | ONLINE CATALOGUE
Gallery Savah
20 Glenmore Road, Paddington, 2021, Sydney Australia.
Ph: 9360 9979 http://www.savah.com.au