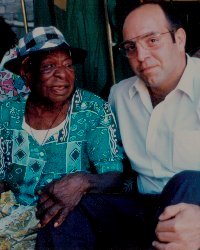 Emily Kngwarreye & the gallery director Savah Hatzis
Emily Kngwarreye (pronounced Ung-warh-ay) was born at Alhalkere in 1910. She was raised on the land in the traditional ways and spoke Anmatyerre. Her first contact with Europeans was in 1919. She took up painting in her seventies whilst working with the Utopia Women's Batik Group. Emily's first solo exhibition of paintings on canvas was in 1990 at Coventry Gallery, Sydney. Her pure talent with colour received immediate recognition from art critics and collectors, setting the stage for the phenomenal demand that Emily's paintings now command.
In 1992 she was awarded the Australian Artists Creative Fellowship by the Australian Federal Government. By the mid 1990's large collections of paintings by Emily Kngwarreye were acquired for permanent display in public galleries.
In 1998 a retrospective of her paintings was launched at the Art Gallery of Queensland, curated by Margo Neale. The retrospective travelled to the Art Gallery of New South Wales, the Art Gallery of Victoria and the National Art Gallery.
Emily's paintings were showcased in many exhibitions world wide including the Venice Biennale.
Gallery Savah launched solo exhibitions of paintings by Emily Kngwarreye in June 1994, May 1996 (Reviewed by Sebastine Smee in the Sydney Morning Herald (31-05-96), 1997 (documented in the Queensland Art Gallery book "Emily Kame Kngwarreye - alhalkere - paintings from Utopia", 1998 "The Final Series".
Jennifer Isaacs (noted art historian and curator) acknowledges Gallery "... Savah in Paddington, Sydney" as a known source of paintings by Emily Kngwarreye, published in the Craftsman House book "Emily Kngwarreye Paintings".
Emily Kngwarreye main titles are Flower Dreaming (aka Wildflower Dreaming), Yam Dreaming, Body Paint, My Country, Earth Creation and Final Series. Her paintings are represented in the art collections of many leading corporations and institutions including; AMP, Macquarie Bank, Kelton Foundation, The Vatican Collection, National Gallery of Australia, The Holmes a Court Collection, Artbank, ATSIC, Art Gallery of New South Wales, Art Gallery of Queensland, Art Gallery of Western Australia, National Gallery of Victoria, Art Gallery of South Australia, Art Gallery of Tasmania, University of Miami and many more.